Compare Auto
Rates from
Top Rated Carriers
Google.com
(4.9 out of 5 stars)
Facebook.com
(4.9 out of 5 stars)









USAA Insurance Review 2021 | Insurance Online
USAA provides a wide range of insurance products and services that garner high marks among its customer satisfaction surveys. The National Association of Insurance Commissioners ranks it as the fifth largest auto insurance company in the US. USAA offers insurance policies for active military members, veterans, and their families.

USAA reviews and ratings
Customer satisfaction ratings are average.
Gets fewer complaints to state regulators regarding home and auto insurance than other companies relative to its size.
Offers rideshare insurance in most states.
Get a Quote Online
USAA Auto Insurance Rating
5.0
USAA auto insurance is rated as a 5-star company with extensive overall performance in providing affordable car insurance for US citizens. We took the time to assess USAA's score by looking closely at its account pricing, financial stability, ease of making transactions and claims, generous discounts, and actual complaint information from the National Association of Insurance Commissioners. Upon examining these factors, we recognize that USAA is a topnotch car insurance company.
USAA Car Insurance Coverages and Discounts
| USAA Auto Coverage Options | Description |
| --- | --- |
| Accident Forgiveness | One at-fault accident will not increase your rate if you have been accident-free for five years. |
| Rideshare Insurance Offer | It is intended for ride-for-hire drivers such as Uber and Lyft. However, this coverage is only available for specific states. USAA's Rideshare coverage will be active only during the times you are carrying a passenger. Regular policy and coverage will apply whenever your Rideshare application is on or active. |
USAA Car Insurance Discounts
Safe Driver Bonus
Defensive-Driving Discount
Basic Driver Training Completion Discount (applicable only for drivers 21 and below)
A Good Student Discount
Three Year Old or Less Automobile Discount
Multiple Car Discount
Family Premium Plan Discount
Loyalty Discount
Comprehensive Coverage Discount (military base garage)
Bundle or Multi-Policy Discount
USAA Homeowners Insurance Policies
USAA provides standard insurance for homeowners, which covers apartments, condominiums, and mobile homes. USAA's homeowners insurance coverage options include these features:
| USAA Home Insurance Coverage | Description |
| --- | --- |
| Identity Theft Policy | A payout limited to $5,000 to restore your stolen identity will be provided by the company. |
| Military Uniform Coverage | In case you damaged or lost your uniform while on duty, USAA will reimburse your stolen/damaged uniform without a deductible. |
| Replacement Cost Policy | If your valuables are damaged or stolen, USAA will reimburse you the cost of your valuables. The value will be for brand new belongings and not the depreciated value of your damaged/lost items. |
USAA Home Insurance Discounts and Perks
A Multi-Policy Bonus
A Claim-Free Discount
USAA Military Life Insurance Policy
USAA provides holistic life insurance services to military members as well as their families. These include permanent life and term life insurance.
Term Life Insurance is intended for military members to suffice their group life insurance and rates similar to the company's regular term insurance policy. The coverage is available for ten to thirty-year coverage.
USAA Military Life Insurance Perks
| USAA Military Life Insurance Benefits | Description |
| --- | --- |
| Severe Injury Perks | A $25,000 compensation will be given to active service members who were severely injured while on duty. |
| Time of War Coverage | This benefit guarantees your coverage in case your death is caused by terrorism or war. |
| Expandable Policy | This benefit applies among military members between 18 to 35 years old. An additional $100,000 insurance premium coverage can be added for married members and new home purchases. |
| Military Coverage Replacement | Replacement of your military life insurance is allowed if you retire or be discharged from service. |
USAA Customer Satisfaction Assessments
USAA is considered as one of the most reliable insurance companies in the country. It has a very low rate of customer complaints garnered from the National Association of Insurance Commissioners relative to the company's size for car, life, and home insurance.
USAA's overall rating in the US is above average, with significant consideration to the range it covers across the nation. Here is a comprehensive study from the 2019 J.D. Power Study:
| Assessment Category | USAA's Customer Satisfaction Rating |
| --- | --- |
| Auto Insurance Policy Claim Satisfaction | Excellent |
| Auto Insurance Shopping Satisfaction | Satisfactory |
| Home Insurance Policy Satisfaction | Excellent |
| Property Insurance Claims Satisfaction | Excellent |
USAA's Digital Information
| Digital Platform | Description |
| --- | --- |
| USAA's Website | USAA has a holistic website that caters to all the services they provide with online retirement planning. Using USAA's website, you can easily buy or sell a car, use their planner and calculator, and learn more about their product and services. |
| USAA's Mobile Application | USAA created a mobile and user-friendly app that lets you pay your bills, manage or access your policies, check claim status, file a claim, and get ID cards. |
USAA's Other Insurance Services
Condominium Insurance
Farm and Ranch Insurance
Renter's Insurance
Classic Car Insurance
Boat Insurance
Mobile-Home Insurance
USAA Client Satisfaction Pros and Cons
| PROS | CONS |
| --- | --- |
| USAA has excellent client satisfaction for both home and car insurance policies. | |
| USAA offers holistic products and services with banking and investing features. | |
| Minimal complaints were acquired from NAIC regarding their home and auto insurance policies. | |
Insurance Online Car Insurance Rating and Review Methodology
We commend every insurance company that extends value to customer-first features and operations. The rating we disclose is assessed through weighted averages and scores from several categories such as financial stability, customer complaints and satisfaction, transparency of their digital platforms, and competitive pricing.
Moreover, we conduct extensive customer satisfaction surveys to provide reviews and ratings that are dependable and fair. However, it is best to compare several insurance companies to account for your judgment and needs.
*Insurance Online is not compensated with our ratings and reviews by any insurance companies.
Insurance Online Complaints Methodology
We examine the complaints from state insurance regulators that are reported to the National Association of Insurance Commissioners (NAIC) within 2016-2018. NAIC extensively calculates the complaint index yearly following each subsidiary to measure the company size's total share of complaints in ratio.
USAA Insurance FAQs
Is the USAA website application for mobile or online claims reliable?
Filing a claim online is secure and dependable and available seven days a week. Upon filing a claim online, an agent will be automatically assigned to your case. On top of that, the claim can be processed and finished without a telephone call. All you need to do is provide essential facts about your complaint and photos or videos if available.
Should I be the one to calculate the cost of my compensation when filing a claim using the USAA website?
USAA will provide the quote for you and assess it according to the information you provided on their platform. Also, you can easily alter the data using their "Claim Center" tab.
Is there a need to file a police report when filing a claim with USAA?
If you have been involved in an accident or if your vehicle was vandalized, it is best to file a police report to back your claim and undefined liability.
How do I determine or estimate the value of my compensation with USAA, and who will do it?
USAA will be the one to estimate the amount of your claim following the information you provided, their investigation, your policy, and the local pricing in your area or state.
How do I acquire my deductible with USAA?
USAA typically minus your deductible to your payment, and you will be the one to pay for the repairs necessary for your vehicle.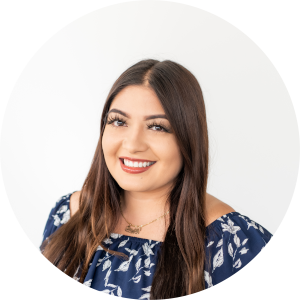 Sandra Cruz | Linkedin
Based in Newport Beach, CA, Sandra has been a licensed insurance agent in California and Texas for 5 years and is an editor and writer specializing in all types of insurance matters. Sandra is Insurance Online's authority on auto, home, and business insurance and has been featured in publications such as Forbes, Yahoo! Finance, and US World News Report.