Compare Auto
Rates from
Top Rated Carriers
Google.com
(4.9 out of 5 stars)
Facebook.com
(4.9 out of 5 stars)









Farmers Insurance Review 2021 | Insurance Online
Farmers Insurance is a nationally recognized insurance company in the United States providing both home and auto insurance coverages. Farmers is one of the top five largest home insurance providers and is one of the top ten largest car insurance companies in the country. Farmers also provides financial services including annuities and mutual funding.

Farmers reviews and ratings
Customer satisfaction ratings are average.
Gets fewer complaints to state regulators regarding home and auto insurance than other companies relative to its size.
Offers rideshare insurance in most states.
Get a Quote Online
Farmers Auto Insurance Rating
4.0
Farmers auto insurance garnered a 4.0-star rating for its commendable performance in delivering comprehensive car insurance coverage. We assess Farmer's rating by evaluating its coverages, financial stability, simplicity of filing a claim, digital platform functionality, generosity in giving perks, and complaint data from the National Association of Insurance Commissioners. Upon gauging these essential factors, we recognized Farmers as a dependable car insurance coverages.
Farmers Auto Insurance Coverages
| Farmers Car Insurance Coverages | Description |
| --- | --- |
| Accident Forgiveness Coverage | For every three years of being accident-free and fortuitously encounters a car crash, Farmers will not increase your rate. |
| New Car Replacement Coverage | If, in any case, your car was totaled within the first 24,000 miles or two years of use, Farmers will replace it with a brand new car. |
| Car Rental Coverage (Loss of Use) | If, in any case, your car was totaled and under repair and you need to rent a car temporarily, Farmers will compensate the rental, cab, or public transport expense. |
| Customized Parts Installation Coverage | If you decided to customize your car with stereo systems, safety devices, chrome rims, etc., Farmers would entitle you to a policy expansion to insure those personalized parts. Therfore, only drivers with comprehensive collision coverage can avail of this benefit. |
| Ridesharing Coverage | Farmers' ridesharing policy is intended for Rideshare drivers, such as Uber and Lyft. Farmer's Rideshare coverage will be active while on the job. |
Farmers Car Insurance Discounts and Perks
Multi-Vehicle Coverage Discount
Good Driver Bonus
Bundling Discount
Affiliation Membership Discount
Good Student Bonus
Alternative Fuel Vehicle Usage Perks
Homeowners Discount
Safety Devises Installation Discount
Full-Payment Discount
Electronic Payment Discount
Good Client Discount
Signal App-Use Discount
Farmer Homeowners Insurance
Farmers home insurance policies are composed on three basic packages options: Standard, Enhanced, and Premier. Farmers standard homeowners insurance policy is intended for new homeowners while Enhanced and Premier are intended for more stable homeowners.
| Farmers Homeowners Insurance Coverage | Description |
| --- | --- |
| Claim Forgiveness Policy | If you are claim-free for five years or more, Farmers will waive your surcharges when you do make a claim. |
| Declining Deductibles Benefit | Farmers will discount $50 deductible each year you have a force policy. |
| Cosmetic Damage Coverage | If, in any case, you file a claim due to functional damage, the repair will be covered by Farmers. |
Farmers Home Insurance Policy Add-Ons
| Farmers Policy Add-Ons | Description |
| --- | --- |
| Identity-Shield Coverage | This coverage protects you from identity theft, credit card fraud, and financial assistance for travel and identity replacement. |
| Eco-Rebuild Coverage | Farmers will cover up to $25,000 for the extra cost of rebuilding your home with eco-friendly materials. It can be redeemed after you file a claim. |
| Contents Replacement Coverage | If, in any case, your valuables are stolen or damaged, Farmers will replace it with a new one. |
Farmers Homeowners Insurance Discounts and Perks
Plumbing and Heating Upgrade Discount
New Home Acquisition Discount
Impact-Resistant Roof Installation Discount
Safety Device Installation Discount
Smoke-Free Home Discount
Farmers Life Insurance Policy
Farmers Life Insurance includes universal and whole term insurance policies. Therfore, Farmers' term life insurance policies are convertible to their lifelong insurance coverage.
Simple Term Life option does not require medical exams. The terms they offer starts at $75,000 for 10 to 20 or 30 year coverage. It caters to 18-65 years old clients.
Farmer's Value Term Life coverage, on the other hand, guarantees a death benefit without having your rates increase. The range starts at $150,000 with an option of 10,20 and 30-year coverage for clients aged 18-75 years old.
Farmers Customer Satisfaction Assessments
Farmers Insurance earned a fair rating from its clients. It garnered a fair customer satisfaction rating from the National Association of Insurance Commissioners relative to its large-scale range of car, life, and home insurance services.
Farmers overall rating in the US is fair, with significant consideration to the network it caters across the nation. Here is a comprehensive study from the 2019 J.D. Power Study:
| Assessment Category | Farmers' Customer Satisfaction Rating |
| --- | --- |
| Auto Insurance Policy Claim Satisfaction | Fair |
| Shopping Satisfaction | Fair |
| Home Insurance Policy Satisfaction | Fair |
| Property Insurance Claims Satisfaction | Fair |
Farmers' Digital Platforms
| Digital Platform | Description |
| --- | --- |
| Farmers' Website | Farmers website features quoting online, filing a and tracking claims, getting an agent, and among other services that extend convenience. Additionally, Farmers provide useful information that will help the ease of making a claim. |
| Mobile Application | Farmers mobile application is a functional platform that lets Farmers clients pay bills, update payment options, acquire insurance ID, view policy details, and upload critical data after an accident. |
Farmers Other Insurance Services
Renters Insurance
Umbrella Insurance
Landlord/Property Insurance
Business Insurance
Boat Insurance
Watercraft Insurance
RV/Motorhome Insurance
Fifth Wheel Insurance
Motorcycle Insurance
Farmers Client Satisfaction Pros and Cons
| PROS | CONS |
| --- | --- |
| Farmers provide various auto and home insurance options. | Mediocre customer satisfaction rates. |
| Farmers garnered minimal complaints relative to its range. | |
| Farmers have generous perks and discounts. | |
Insurance Online's Car Insurance Rating and Review Methodology
We commend every insurance company that advocates the value of customer-first operations. The rating we disclose is assessed through weighted averages and points from several categories: financial stability, customer complaints and satisfaction, transparency, digital platform functionality, and competitive pricing.
Moreover, we conduct customer satisfaction surveys to provide reliable and fair reviews and ratings. We took the liberty to conduct comprehensive research for each insurance company in the country to help you save and identify the one that best suits your distinct profile. Thus, it is ideal for comparing several insurance companies to account for your judgment and specific needs.
*Insurance Online is not compensated with our ratings and reviews by any insurance companies.
Insurance Online Complaints Methodology
We examine the complaints from state insurance regulators that are reported to the National Association of Insurance Commissioners (NAIC) between 2017-2019. NAIC extensively calculates the complaint index yearly following each subsidiary to measure the company size's total share of complaints in ratio.
Farmers Insurance FAQs
I need to pay my bill due soon and I can't log in to my Farmers account, what should I do?
You need to immediately take a hold of your agent or call Farmers Customer Care Center to help your process your payment.
If in cases of loss, who should I contact first in Farmers?
It is best to contact your agent first if you just encountered an accident, property damage, or loss.
What if I rent a car, will it be covered under my policy with Farmers?
Typically, it depends on the premium you have with Farmers. Most car rentals are insured by the rental company, however, if you are insured under Farmers and you rent a car due to some personal reasons, it is ideal to review the policy you have with Farmers.
What exactly is Farmers' full coverage?
Farmers' full coverage policy means your liability coverage and property damage coverage are both under one policy.
How does my risk affect my rates with Farmers?
Farmers use Risk Assessment Indicator to determine the level of risk you have. This tool guides Farmers in giving you your distinct rate parallel to your risk-level.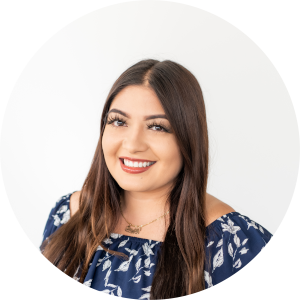 Sandra Cruz | Linkedin
Based in Newport Beach, CA, Sandra has been a licensed insurance agent in California and Texas for 5 years and is an editor and writer specializing in all types of insurance matters. Sandra is Insurance Online's authority on auto, home, and business insurance and has been featured in publications such as Forbes, Yahoo! Finance, and US World News Report.